This post has been compensated by Collective Bias, Inc. and AcneFree. All opinions are mine alone. #AcneFreeSummer #CollectiveBias
Currently, we are in the middle of the summer. Therefore, spending time outside by the lake, pool, or beach is a necessity. In the hope, to achieve a beautiful summer glow within our skin. As a result, it's equally important to treat our skin for a flawless tan. Recently, I came across AcneFree and believed it could be the perfect addition to my summer skin routine. With the summer warmth and outdoor fun, having skin you can be confident in becomes very important. 
The AcneFree 24 Hour Acne Clearing System is an easy, daily regimen with three simple steps. AcneFree is the
only brand that makes acne clearing systems formulated with Advanced Micro-Benzoyl Peroxide. Micro-sized benzoyl peroxide is designed to work faster and penetrate deeper into pores. The AcneFree 24 Hour Acne Clearing System includes Oil-Free Purifying Cleanser, Renewing Toner and Repair Lotion – three simple steps, twice a day, for clearer skin!
Must Haves for the Beach, Pool, Lake
Acne Free Skin.

To begin with, clear skin is beautiful. With this in mind, I opt for AcneFree 24 Hour Acne Clearing System when I have last minute events to attend. Also, I opt for AcneFree Body Clearing Acne Spray when I want to wear backless tops or dresses. With the hope, of having glowing skin from within.

Hat

. Equally important, to treating acne is protecting our skin from the sun. Therefore, I tend to wear hats when I know a majority of the time will be spend outside. In recent months, I have noticed sun spots appearing in my skin that protecting my face is a must.

Sunglasses

. As a content creator I spend a majority of the time behind a computer, which naturally has created a vision problem within my eyes. As a result, I try to protect my eyes with sunglasses whenever possible to prevent any further damage.

Confidence

. In my opinion, the best thing to wear during the summer is confidence.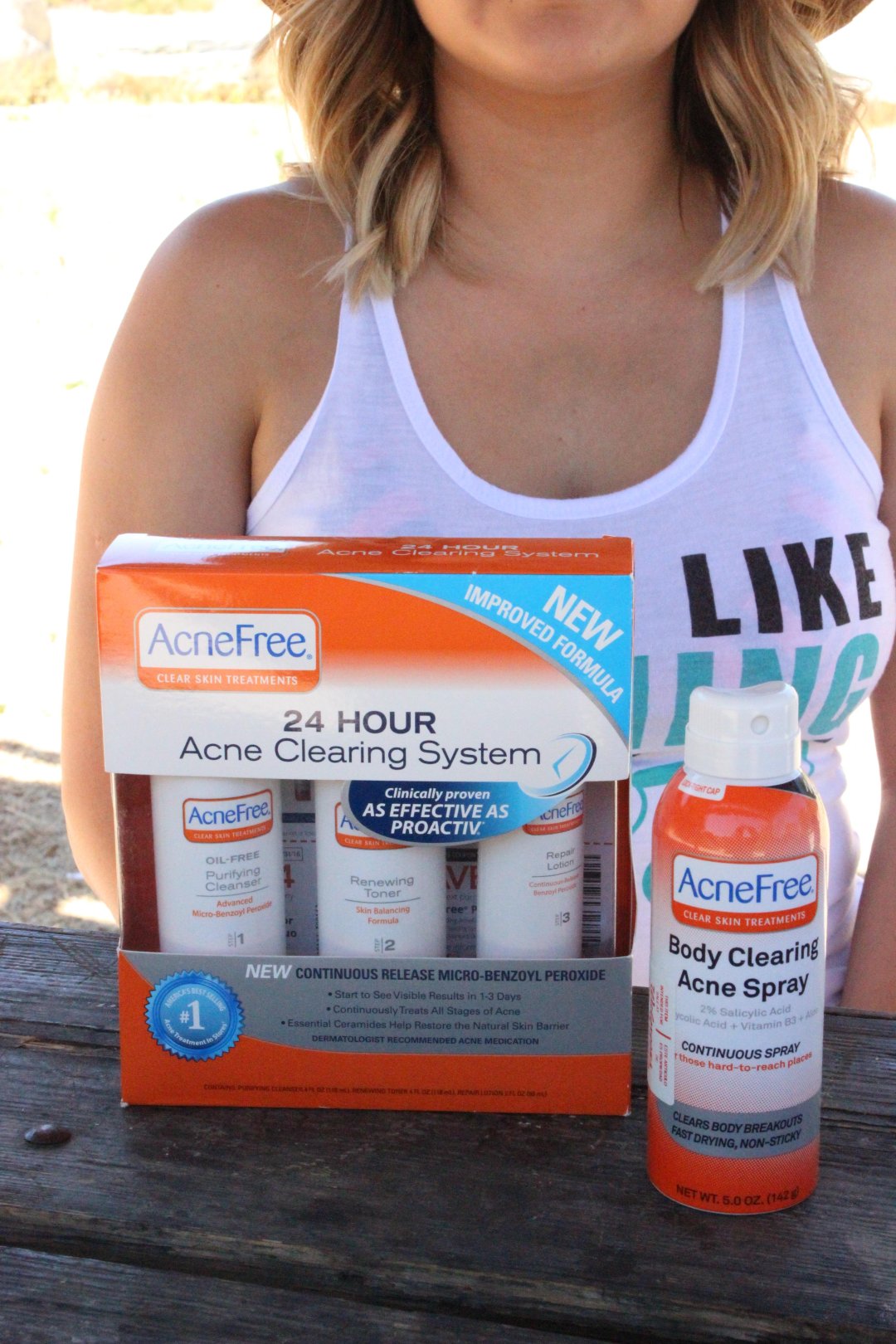 Hover over the image to shop the products!
All things considered, the efficacy and price value of AcneFree makes is a must have for me. In addition, the products have tied into my skincare routine very easily. Don't forget to stop by your local Walgreens to find other products from AcneFree.